The demand for renewable energy is steadily rising in the world to mitigate negative repercussions of using decades of non-renewable resources and fossil fuels. The topic of energy security is taking centre-stage in the island of Sri Lanka. In this exclusive interview, WindForce Ltd. (WIND) Managing Director Manjula Perera ex-plains why the company is leveraging on the rising demand for renewable energy and listing an Initial Public Offering (IPO) in early 2021 to allow investors to partake of its robust projected growth trajectory:
---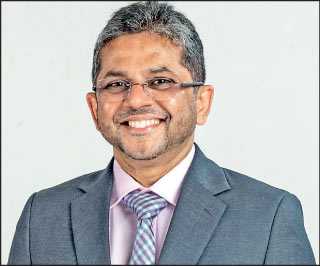 Manjula Perera
---
Q: How is WindForce Ltd. (WIND) positioned in the market?
 Incorporated in July 2010 to promote and handle all aspects of renewable energy developments, WindForce Limited (WIND) is positioned as the foremost expert in the renewable energy space and also the largest inde-pendent power producer in the renewable energy generation sector in Sri Lanka, with a strong global pres-ence. 
WIND currently operates 27 power plants with an installed capacity of 218MW of which 55.4% of the capacity which is 120.8MW is based in Sri Lanka and the rest in Uganda, Pakistan and Ukraine. The company is promoted by an internationally-reputed consortium of shareholders, with a strong foothold in 15+ countries, namely, Ak-bar and Hirdaramani, along with Debug, MAS and Star Packaging. With their global reach, the promoters are well equipped to facilitate significant expansion in the renewable energy sector in the South Asian and African regions. 
Q:  What is the aim behind the IPO?
 WIND intends to raise a sum of Rs. 3,242 m through an Initial Public Offering (IPO) to accelerate renewable energy projects in Sri Lanka and overseas. Energy security is the key fundamental for a country like Sri Lanka whose economy has strong potential to become one of the key service hubs in the region. We foresee high energy demand in the country in the future and this IPO, which we expect to be oversubscribed on issuance, will position us to satisfy this demand through environmentally-friendly means while reducing the nation's reli-ance on non-renewable energy.
From the funds raised, the company intends to allocate a sum of Rs. 2,310 m as the equity investment for the 15MW Mannar wind power project and the 30MW Senegal solar power project. Remaining funds of Rs. 932 m will be utilised for future projects the company intends to undertake in Sri Lanka or in other countries. Total installed capacity of the company will increase from 218MW to 263MW with the completion of the projects in the pipeline which would further strengthen the company's position as the largest renewable energy IPP in Sri Lanka and one of the largest in the region. Prospective investors should take note that today WIND is five time larger than the biggest listed company on the Colombo Stock Exchange and then estimate the strong returns they can earn on their investment in our upcoming IPO.
Q:  What is the potential for renewable energy in the market?
 Currently, renewable energy in Sri Lanka constitutes only 11% and WIND plans to increase this contribution to the total energy mix just as in developed nations where renewable energy constitutes up to 70% of total en-ergy consumption. WIND's IPO is also aligned to the Government's vision to grow clean energy to 70% of the total energy mix by 2030, which includes large hydro and LNG power plants. In Sri Lanka, of the 140 MW in-stalled capacity of wind power generation, we own 70 MW and of the total in ground mounted solar power generation of 65 MW we own 22 MW. There are ample opportunities in wind and solar projects in Sri Lanka and abroad. 
WIND is on track to secure a key project in Senegal and our strong Africa focus is seeing us securing new pro-jects in Uganda, Cameroon and Malawi. 
Q:  What are the strengths that distinguish WIND from other players in the industry?
 A professional, experienced, and versatile engineering team is one of the core strengths of WIND coupled with expertise and experience in conducting feasibility studies, design and engineering management, procure-ment, commissioning, construction, erection, operation and maintenance of power plants which enables it to be present in the entire lifecycle of a power project. 
Given our global footprint, WIND has stronger negotiating power with equipment manufacturers and leading banks which are more than happy to work with us due to our strong track record of timely delivery, strong bal-ance sheet and the financial stability of the promoters. Furthermore, the company's geographical diversification mitigates reliance on any one market. 
As the largest IPP in the renewable energy generation sector in Sri Lanka, WIND Group has won many awards in a multitude of areas including industry excellence, management systems, engineering excellence, quality standards and financial performance.
Source : http://www.ft.lk/business/WindForce-invites-investors-to-share-in-exponential-growth-in-SL-and-overseas/34-714197